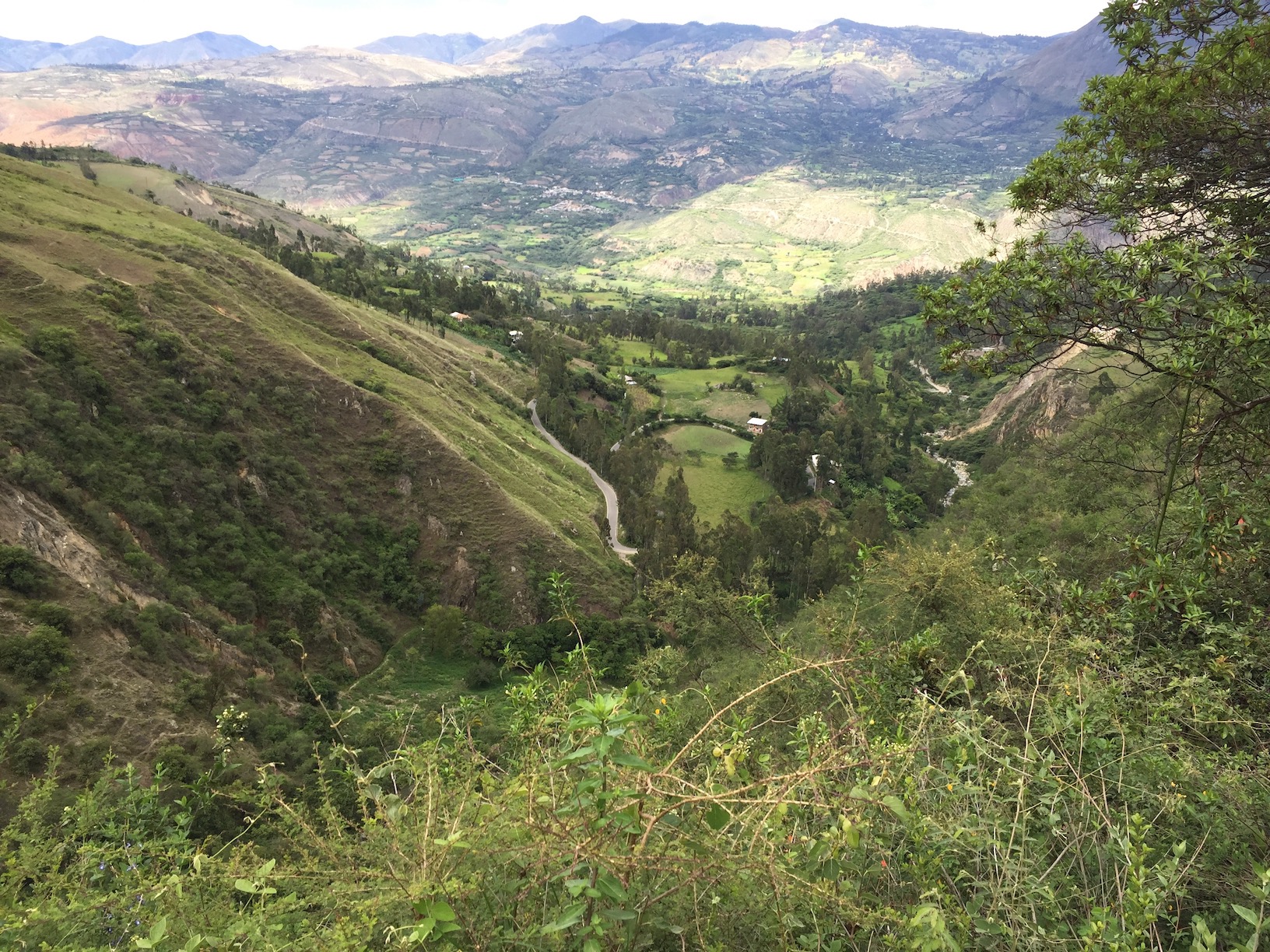 On my recent trip to Latin America I was able to spend time with each of our sisters and with some of our former members. My first stop was Bolivia.
The trip down from La Paz was slow because of fog and rain but upon my arrival in Coroico the sun came out in all of its glory.
Maribel is in her fourth year of temporary vows and is doing very well studying at the University of Carmen Pampa, majoring in Adult Alternative Education. This year Maribel has been commuting from Coroico to Carmen Pampa and is enjoying the experience because it gives her a chance to be more active in the parish. She has a beautiful singing voice and sings with another cantor each evening at Mass.
The Internado in Cochuna is where Helena spends most of her time.
The Residential Education Program, or Internado in Spanish, provides children from the rural area with an alternative opportunity to attend school and graduate from secondary school. The program whose main thrust is holistic development, provides students with a place to live and eat during the week (Sunday evening through Friday afternoon) while they attend a nearby public school that is a 10 minute walk from Cochuna. In addition, the program provides homework assistance to students and access to computers and library resources. They also receive technical training in animal husbandry and agriculture, as the program is a working farm. This way, students contribute to the sustainability of the program by providing two hours of labour a week and learn skills that can be applied once they return to their families and villages. The project in Cochuna is incredibly successful. The high school graduation rate for young men and women at Cochuna is approximately 90-95%. A former students writes:
"Because of what I learned in Cochuna, I have opened up my own hog farm. If it wasn't for the Internado, I wouldn't have known how to do this. I now work as a driver and run my hog farm and I make enough money to support my family,"
After the return trip to La Paz and a bit of sightseeing, I was on to Sondor. Ann met me in Piura and we took the long bus ride up to the mountains. As we began our ascent and I looked out the window all I could think of were the words of St. Francis in the Canticle: "Praise be to you my Lord, through our sister Mother Earth, who sustains and governs us, and produces various fruit with colored flowers and herbs"[i] The Andes mountains are breathtaking, as are the curves on the very narrow road that the bus driver navigated so well. Gloria, the pharmacist that works with Ann had a tasty meal prepared for us when we arrived. The only difficulty was that tired and dusty from our long trip, we discovered that on this day, the water was not running! So, early to bed hoping for a nice shower in the morning. God is good and the next morning water was running, but the electricity went out in the village around midday. The small pharmacy on our convent grounds sees a steady stream of people from morning until early evening and often later than that. Villagers come for advice, medicine and sometimes even emergency calls for help. One women came to the door in need of emergency gallbladder surgery. Ann and Gloria were able to arrange the surgery and with the help of a fund from the diocese, forward the fees to the physician.
In addition to her work with the Health Ministry, Ann is a well-known figure in Sondor and the surrounding villages and towns. She is greeted with an affectionate "Buenos dias Madrecita" and always with a smile. We traveled to several of those villages by car and I was in awe of the fact that our sisters traveled this same route on foot, horseback and sometimes riding a donkey! Pioneers indeed.
On one of our excursions we visited a young family. Orlando, the husband and father of three was paralyzed in a car accident. They have rented out their simple home and are living in a lean-to in the back. To supplement his income, Orlando has taken up knitting and crocheting. He is quite good and sells his sweaters and ponchos. I was so moved by their joy and hospitality. We sat on small benches and Orlando's wife was preparing to share their meal of beans and rice with us. We assured her that we had eaten and took instead some delicious freshly picked oranges! One of the great highlights of their week was their ability to watch Pope Francis on TV during his trip to Peru.
In spite of all of the work, we found time to do a little sight-seeing. Those of you who know me know that I am not the most athletic person but Ann and I hiked, walking stick and all, to El Citan, a beautiful waterfall. We sat in silence for a little while and I kept singing, "Surely the presence of the Lord is in this place".
"The greatest miracle is myself, that I should be a Catholic, a Religious, a Franciscan;"
Elizabeth Hayes
My next stop was Lima, where I spent some time with Gustina and Karina. They are both doing well and preparing to move to Piura. Karina is in her canonical year and Gustina is familiar with the resources available to her and to Karina in Piura during this very important year. This has been a challenging time for them but they are both at peace.
Both Gustina and Karina were able to see Pope Francis when he was in Lima. It was a very exciting time for them and for the entire country
On my last night in Lima we visited the Circuito Magico del Agua. The city provides a spectacular laser show with fountains.
Former Members
While in Piura, Ann and I had a dinner and a nice visit with Carmen Minga and Juana Palacios. Both women are so grateful for all that they received from the community and continue to try to live our charism. They both have great devotion to Elizabeth Hayes and gather often to pray together. Ann met Nora Saavedra while on the diocesan trip to Trujillo to see the Pope. Nora is also doing well. Hopefully we will continue to meet with our former members, many of whom have a great affection for our sisters and our charism.