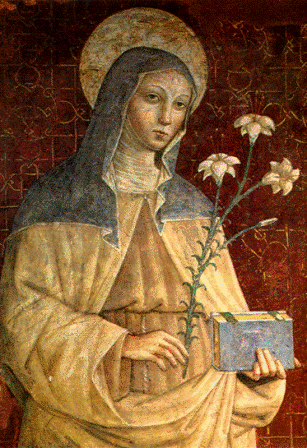 Francis's new Order also drew women. In 1208, when she was around 15 years old, Clare, the eldest daughter of the noble Offreduccio family of Assisi, heard Francis's preaching. His message held great spiritual attraction for her, and she determined to follow the gospel way according to his vision.
In 1212, she secretly left her home with a companion and was received by Francis and the brothers into their way of life. However, it was necessary for her to be sheltered in a convent. After a time of enjoying the hospitality of some local women religious, she established herself and some of her own companions just outside the walls of Assisi in a little church dedicated to St. Damian. Here Clare lived an enclosed contemplative life of radical poverty for over 40 years.
Clare was filled with joy at thought that she had received an invitation to follow in the footprints of Jesus. She saw this in light of her baptismal call to live the Gospel. In her Testament, she asks her sisters to always remember with a spirit of Thanksgiving, the wondrous gift given to them in their vocation.
She saw herself and her sisters as persons called to reflect to each other and to those who knew their way of life, the self-emptying, merciful love of Jesus.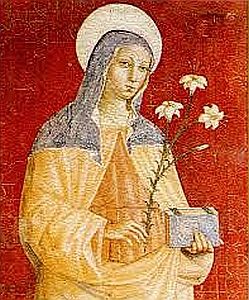 Clare, like Francis looked at life with wonder and awe. She experienced God's tender love and mercy in prayer, in relationships with others and in service. Shortly before her death, she wrote a letter to St. Agnes of Prague encouraging her to cling to Jesus "with every fiber of her heart". She wrote that the results would be "excitement, refreshment, fulfillment and delight". (4th Letter to Agnes)
Clare was filled with a " joy that no one could take from her"!
She died at the age of 60 having received from the Pope her heart's desire—approval of the Rule she had written for her sisterhood. This was a faithful application of the vision she had shared with Francis and his brothers for so many years. Today, the followers of Clare's way of living Franciscan life are called Poor Clares.
Click here for Powerpoint presentation.